24-25 February
Workshop:
Nature Illuminated
The art of watercolor on vellum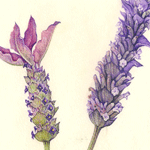 Roma, Studio Arti Floreali
Vicolo della Campanella 34
7 April – 5 May – 9 June – 14 July – 25 August – 8 September 
Workshops at the  Natural History Illustration School IL PENNELLO
Lerma (AL), Ente di Gestione Aree Protette Appennino Piemontese
Ecomuseo CascinaMoglioni (July and August)
18 May – 17 June
A Flourishing Heritage – Portraits of Italian Flora
Padova, Orto Botanico
FLORAVIVA, the Association of Italian Botanical Artists, has joined in the ASBA international project Botanical Art Worldwide, setting the Italian exhibition in the famous Botanical Garden of Padua.
PIU' VICINO ALLA TERRA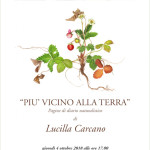 My next solo exhibition at the Studio Arti Floreali in Rome.
Opening: 4 October h 17
Open 4 – 21 October, h 16 – 20
Good news! My watercolor on vellum Andricus coriarius, which is part of the New York State Museum Collection in Albany NY, was on display last Spring in the Emma Willard School, for the exhibition Illustration as Science, focusing on women illustrators.
Here it is: