New project on the way!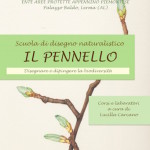 In collaboration with the Piedmont Apennine Protected Areas Authority, March 2018 will see the start of the Natural History Illustration School "IL PENNELLO" project. Based at Palazzo Baldo in Lerma in the heart of the Capanne di Marcarolo Park, there will also be summer activities at the Cascina Moglioni Ecomuseum. The project will offer a wide range of courses and workshops for both experts and beginners, together with special classes for local schools. Our aim is to transform pencils and pens into sensitive tools at the service of study and knowledge, to help discover the Park's wealth of biodiversity. The white downy bud of the whitebeam, locally known as "pennello" (brush), is an excellent way of illustrating the dual objectives of a project based on learning the techniques of drawing and painting, while at the same time familiarising participants with the local environment.  The works of all those taking part will contribute to a notional survey of the plant and wildlife species present in this corner of the Apennines. Those accepting the challenge will be able to take part in the exhibitions we will be organising at the end of the courses.
Workshops on Saturdays:
April 7 – May 5 – June 9 – September 8: Botanical watercolor at Palazzo Baldo, Lerma (AL)
July 14 – August 25: Drawing on sketchbook at Ecomuseo Cascina Moglioni
Special classes for local schools on Tuesdays (by appointment).
For information and enrolment, contact me at: bliss@lucillacarcano.it