LE PIANTE E L'UOMO
The exhibition is open until 28 February 2016 at the Museo della Grafica (Palazzo Lanfranchi) in Pisa. Click here for further information.
UN VERDE PIÙ NUOVO DELL'ERBA – Workshop
Do not miss my workshop scheduled for 13 and 14 February at Studio Arti Floreali (Vicolo della Campanella 34/A, Roma): a meditation on the mystery of spring with pencils and brushes. As source of inspiration, the students will choose among a selection of spring branches from the forests of the Apennine between Liguria and Piedmont.
Info: +39066877369 – www.artifloreali.it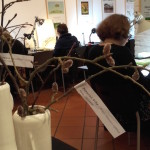 At work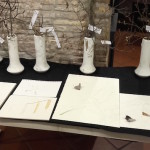 Buds and leaves on paper and vellum
UN ANNO SU BRICCO CARLO
The exhibition, set up in collaboration with Associazione E Prie of Pietralavezzara (Genoa), will be opened on 2 April and it will be on view until 29 May.
Assisted by some friends  attending my courses over the last years, I have drawn up a naturalistic diary illustrating  the seasonal changes on Mount (Bricco) Carlo, a small calcareous relief located in the region where I live. At the moment  the richness of the local flora is threatened by the cutting of a big railway tunnel.
Within this exhibition, conferences and educational workshops with  schools  will be organized.
We will keep you updated, so stay tuned!